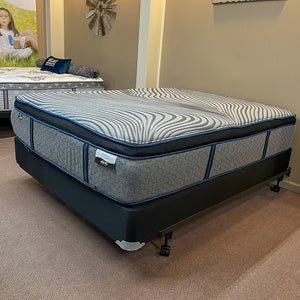 Luxemburg Mattress Set
Hyper-Soft Gel-Top Surface
Provides the initial soft transition into the sleep  surface. Gel-infused construction retains its shape  and feel longer than traditional foams.
Tempagel

TEMPA-GEL™ This special upholstery foam is ultra-soft, breathable, and exceptionally durable.
Medium Soy-Infused Hi-Density Comfort Foam  Minimizes pressure points and provides long-lasting  support.
Gel-Infused Soft Comfort Foam
This gel/foam layer is integrated into the mattress  to help minimize pressure points.
Super Edge Hi-Count Pocketed Coil System  With over 1000 pocketed coils, this support system  delivers deep support and virtually eliminates  motion transfer.
Includes Mattress and Foundation
---
We Also Recommend