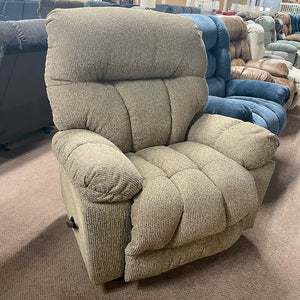 Retreat Truffle Rocker Recliner
One sit in the Retreat Recliner and you'll quickly float away to your treasured oasis where worries don't exist. The generous size allows you to sink into this plush haven courtesy of the overstuffed seats and backs filled with extravagant amounts of pillow cushioning fibers. With an exclusive reclining mechanism focusing on all the comfort touch points, the long-awaited vacation is now at home.  Recline at the push of a button with the choice of Power, or opt for the easy to use reclining handle and manually kick back and relax. Have it in your choice by choosing from over 700 fabric options and several leather colors.
Made in the USA by skilled craftsmen. 
Dimensions
---
We Also Recommend